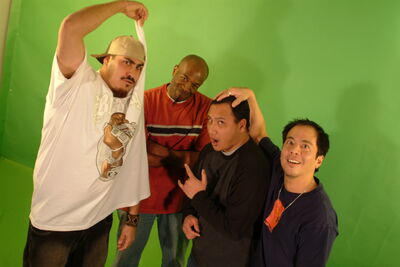 Creator
Ramon Lopez
Co-Creator
Jesse Hernandez
Featuring the voices of
Rex Navarette
Ramon Lopez
Jesse Hernandez
Other voices
Rhia Abarquez
Jamar Logan
Victor Bognot
Joshua Padilla
Written by
Ramon Lopez
Co-Written by
Jesse Hernandez
Victor Bognot
Jamar Logan
Joshua Padilla
Executive Producer
Ramon Lopez
Producers
Jesse Hernandez
Victor Bognot
Art Director/Character Design
Jesse Hernandez
Editor/Sound Design
Victor Bognot
Storyboard Artists
Jamar Logan
Jesse Hernandez
Intern
Joy Navarro
Music
Sean Burnes
Victor Bognot
Ramon Lopez
The Genie
Ras K-Dee
Sequence Mindset
Intro Song
Nump
Steven King
Intro Animation
Dino Ignacio
Jesse Hernandez
Victor Bognot
Pheonix Hong
On the Walls
Jason Jacneko
Sket One
MAD
Dream TDK
Marka27
CHIEF
Esence1
For ABS-CBN Animation
AVP Animation Department
Ma. Guia Jose
Production Planning/Control Coordinator
Ricardo Unson
Assistant Head, Production Planning,and Control
Teresa Caballero
Animation Director
Paterno Ejercitado
Flash Technician Adviser
Mark Kenneth Bambico
Layout Directer
Henry Tantiado
Production Control Assistant
Jeric Vilianueva
Background Stylist
Emiliano Gumera
Color Stylist
Cynthia Rosario Antonio
Administrative Officer
Valerie Andaya
Flash Animators
Ronald Alcantara
John Emerson Andrada
Fernando Bambico
Michael A. Brum
Emil Cabaltierra
Ambrosio Espiritu Jr.
Hardy Gamboa
Emmanuel Gatusiao
Hilario Lopez Jr.
Rodolfo Lopez
Jodi Anne Lorenzo
Kathryn Denise Moreno
Eugene Orbita
Arnold Samson
Hermes Tantiado Jr.
Special Thanks
Chita "The Animal" Lopez
Geny "Pops" Lopez
Yuri Psinakis
Raffy Lopez
Joshua Padilla
Audie Vergara
Enrique Olives
Pia Lopez-Banos
Christie Morales
Diane Jiz-De Ortega
Beverly Deusaido
Sean Burnes
Ad blocker interference detected!
Wikia is a free-to-use site that makes money from advertising. We have a modified experience for viewers using ad blockers

Wikia is not accessible if you've made further modifications. Remove the custom ad blocker rule(s) and the page will load as expected.